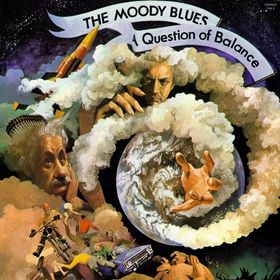 (#79: 22 August 1970, 3 weeks)

Track listing: Question/How Is It (We Are Here)/And The Tide Rushes In/Don't You Feel Small/Tortoise And The Hare/It's Up To You/Minstrel's Song/Dawning Is The Day/Melancholy Man/The Balance

In 1970 even the Moodies had to go back to basics, although their basics really weren't the same as everyone else's, having recently refurbished Decca's Studio One from top to up-to-the-minute technological tail. Nevertheless Peter Knight's string arrangements are noticeably absent from the picture of Question, although judicious use of natural West Hampstead echo means that Mike Pinder's Moog gives a pretty good impression of a string section.

From the opening of "Question" itself it is also clear that the band are essentially playing live in the studio; there is a vibrancy that was often marked by sonic reticence the last time this tale visited them. Since then there had been another album – To Our Children's Children's Children, which had been kept at number two over Christmas '69 by Abbey Road – but apart from the palpability of their music, there is no real progress or difference from the sentiments expressed in On The Threshold Of A Dream, nor did there truly need to be. Throughout the record we again hear imprecations to "open your eyes," "wake up…to yourself," and two songs bear the 1967 imprint of "love is all around."

Some of the song titles above may read like the chapters of a Tom Peters self-reinvention manual but there is nothing of the hustler about the group's music, even though all ten songs are extremely careful to avoid specifics or even any of the implications aroused by Phil Travers' cover painting, including as it does a furious-looking God winding the Earth around his outraged hand as it turns to polluted smoke; beside him Einstein watches in frustrated boredom, and beneath both are faint pictures of humanity riding in their various hellbound carts, sex, cars and elephant-shooting, growling wolves, frightful bats silhouetted against a terminal moon – and, right at the bottom, a Blackpool seaside crowd watching amazed but unconcerned. Behind them is a tent bearing the "Threshold" logo as its flag, and within it lurks a shady figure who may well be manipulating the entire spectacle.

"Question" was the album's unlikely #2 smash hit lead single (kept off the top by England '70 and their prematurely forlorn "Back Home"), unlikely in that the 45 remix is actually longer than the album cut (24 seconds longer). The album version is less dramatically mixed, the Moog fanfare only coming in on the reprise of the fast section. Essentially two half-finished Justin Hayward songs baked together to provide an epic, the fast sections of the song were apparently inspired by the anti-Vietnam demos prevalent at the time, although you'd be hard pressed to glean that simply from listening to it; still, Graeme Edge's frantic tom-tom knocking against Hayward wondering why his/our knocked door is never answered is a great dramatic device, as are the ghostly choral echoes which veer in and out of the "chorus," as it is, like spectres of old tube trains. Then the picture settles, becomes more limpid, as Hayward sings of his search to find himself again; there is real loss and sorrow in his "And if you could see what it's done to me," and the song's dramatically soft pauses are cushions of temporary reassurance. His slowly dawning happiness (evident at "To learn as we grow old") is extremely moving and reminds us that Hayward did the best little boy lost expressionism of any British pop singer this side of Marty Wilde (who, fittingly, gave Hayward his first big chance in the shortlived group We Three). And finally the song charges back into life, Hayward's energetic and slightly amused protestation vocal slipping around its mechanisms like a newly-fed polecat.

As with Threshold, all ten tracks segue into each other (at an old vinyl rate of five-a-side). "How Is It" demonstrates the group's unusual ability to sweep quite naturally from one perspective to a wider portrait; its central tune shuffles like the Scaffold but at the word "brink" Pinder's electronic keyboards fly into the picture and the track effectively turns into proto-Air. Further evidence of the possibility that an awful lot more people listened to and absorbed the Moodies' music than they might have subsequently cared to admit lies in "And The Tide Rushes In," another of Ray Thomas' troubled kitchen sink dramas; he sings it pitched low, like Pitney, but the line "Which side of the bed I should LAAAAAY" – "Love Will Tear Us Apart"? - sets up our antennae, and Edge's rumbling toms and the general ethereal air of the music, as well as its harmonics, strongly suggest Joy Division's "Atmosphere."

"Don't You Feel Small," however, demonstrates that the Moodies still had a lot of 1965 in them; their harmonies are Hollies-derived, and the build-up from maracas and flute to full-blooded drums and snappy acoustic guitars suggests a modified Searchers, although the latter never considered a trope like Thomas' flute, fluttering in its own modest eruption out of the crowning chorus of voices. "Tortoise And The Hare" – I'm avoiding lyrical analysis as much as I can here, since the titles really do say it all – rolls along rather like Mike Sheridan and the Nightriders pre-emptively attempting Canned Heat, with Hayward's piercing guitar and a final reassuring end-of-the-sixties roundelay of "It's all right."

"It's Up To You" begins with some country-flavoured guitar figures and we are faced with the Moodies as bar band, sounding a little 1968 Beatley and not that far removed from the artists responsible for entry #80, but note the way the sonic picture blurs in the "nothing to lose" middle eight before refocusing on Hayward's abrupt ("vicious" isn't a word in his vocabulary) lead guitar. John Lodge's "Minstrel's Song" isn't, unsurprisingly, up to par with Dylan's "Minstrel Boy" from last week, sticking with its updated "Little Drummer Boy" hymnals – this song could almost have fallen off the back of The Sound Of Music – but works as the crowd pleaser it was always intended to be. Still that incurably optimistic foot stuck in 1967 – "Everywhere, love is all around" – well, it wasn't our fault, we didn't change, the rest of the world did – but towards song's end there's a remarkable build-up of intensity, Edge's drums busting loose and Hayward's guitar verging on punk thrash (no, really!).

"Dawning Is The Day" is the last we hear from Hayward as a singer on this album; alternating characteristically between quiet musing and a slightly more forceful curtain of reassurance – "Listen, we think we have found you," which is slightly more menacing than comforting – although the climactic double triple descents of flute and piano which judder the song to a temporary halt are striking. After the song's lost soul has been "found," a thoughtful mandolin-like guitar line angles its way out of the song like a narrowly escaped pike.

"Melancholy Man" is the album's second big setpiece (after "Question"); Mike Pinder's vocal is unsteady but that's the core of the song – I'm not sure how much of it, if anything, was influenced by Jonathan King's "A Very Melancholy Man" from a couple of years earlier but there is a new mourning being expressed here; just two very simple verses which weave their way in and out of each other in most possible combinations of fugal counterpoint as the song's textures thicken – following the shuddering drums which boom against the singer's "into the sea" – to allow a Morricone choir and the deep, foghorn Moog bass returned from "The Boxer." Not even the "Yesterday Man" of a few pop summers earlier, this is a despondent song and its darkening arches become rather forbidding; I wonder how much Coventry's Jerry Dammers listened to this before addressing the 1980-1 work of the Specials (see, for instance, "Stereotypes"). I also thought of "On Melancholy Hill" from Gorillaz' astonishing Plastic Beach, an album which, like this one, takes a considered look at a disappearing world, which keeps coming back to the sea only to find greater layers of sunken ruins, a loss starkly articulated by Bobby Womack's numbing "Cloud Of Unknowing."

But, as that latter record eventually fades into the end credits where the taps have been left running for a hundred years, so Question finds its "Balance"; there is an unapologetic quasi-Biblical narration involving oranges and heightened states of consciousness, eventually mutating into a campfire "We'll Sing In The Sunshine" update, via Edge's emotional emphasis on the word "COMPASSION." Don't worry, home's not that far away, just keep going, people of 1970, and the people of Britain and America certainly did keep this record in their respective album charts for well over a year. There is, as I said at the beginning, no real "progress" from two albums previously, and really with the Moodies there is no need to "progress"; they have already found their niche, are wholly comfortable in it, and especially following the vacancy recently created by the Beatles were happy to provide simple (not "simplistic") answers to their listeners' implied complex questions. Still, listen to that hammering and "in a world of persecution that is burning in its greed" on "Question"; there's still a hardness underlying their soft outer layer, and they served their audience's needs well, as at least one major band every generation has the purpose to do.